"Awards & Appreciation Page!"
---



I would like to express my appreciation to Perry Inman for his most patient teaching of basic html. Without this, this web page would not exist today. Thanks, Perry, from the bottom of my heart! Judy


I would also like to thank Vern Stephens for the wonderful animated graphic on the front page of Euphoria. I downloaded this graphic on AOL, in a section of donated Animated GIFs that were donated for the public, and unfortunately I have no web address for him (he did not mention one in his download)

With Very few exceptions, the rest of the graphics on my page, are graphics that I have purchased, but I have still mentioned many graphic Web Pages that I have found on the web-these folks deserve so much credit for the wonderful service that they perform for owners of web pages everywhere...Three Cheers to you all!


All of the midi selections on my page have been found on one of the links mentioned on my web page...Due to the fact that there are so many repetitions of midi songs from link to link, I decided to use all of them, to give others a chance to view their fine midi arrangements.


I would also like to thank the Phenominal Women of the Web for the privelege of displaying their symbol which they granted after reviewing my Web Page...the work YOU do is Phenominal!



I Am A Proud Member Of: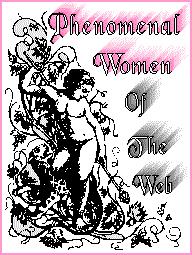 Phenomenal Women Of The Web
---
"Awards"
---
---
---